The Norton Commando we rebuild for you should reflect your taste and riding style. It is our mission to create a truly special customized Norton Commando motorcycle just for you. Below are some additional options that we offer in order to build exactly the machine you are looking for.
No cost options:
Handlebar styles to suit your riding style and to achieve a certain look
Turn Signals or delete
Seat styles and material choices
Passenger pegs or delete
….and more
Additional cost options. Contact us for pricing:
Click on image to enlarge
Electronic instruments package. Outstanding performance and looks. No failing cables or drives. No leaks. We have two different styles available. The original looking Smiths and more modern type Autometer. The Autometer is also available in two different face colors. Black or White
Billet z plates. Unique design. CNC machined. Extremely strong
Rear sets. For a more aggressive riding position. Clean simple and of highest possible quality.
Black painted primary. Great contrast on certain colored bikes.
Billet bar end. Nice, small yet highly functional. Flat black or Polished
Lowering kit. Lowers the bike for those that prefer that look or want to lower the seat height for comfort. 1″ or 2″
Machine in image below, # 089, has a 1″ lowering kit installed
Dual Keihin carburetor kit. Very responsive and a truly high quality, high performance carb kit for your Commando.
Fullauto performance head. A direct replacement for a stock Commando head. Flows extremely well and takes the performance to the next level yet with the look of  an original head. Fantastic combination with the Dual Keihin carburetor and a performance cam grind
Tri Bar head light. Nice quality look for a perfectly finished machine
Cafe' style, Dual disc front end. Some serious stopping power provided by dual Brembo 4 pad calipers working with 320 mm full floating discs and controlled by a radial master cylinder. This kit also included unique cNw triple trees, a 39 mm fork leg and a cNw custom front hub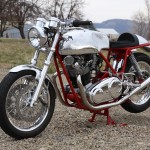 Stage 2 and Stage 3 engine performance kits. These complete kits includes a certain combination of engine parts to take your Commando to the next level in regard to performance. The kits are designed the ensure a well-balanced system, yet without stressing the engine to a point where it becomes unreliable. Contact us for more details in regards to these kits.
Alloy bodywork. We work closely with Evan Wilcox, the premier alloy craftsman in the industry,  and can create a unique set of body panels for your cNw build. See examples of these panels in the gallery. Bike #038, #050, #056 and #091.  gallery
Custom paint work. Working with the premier painter in the region we can customize the paint work. Our standard paint finish is certainly as nice as it gets but if you want flames or any other special design treatment, we can make this happen.
…….and more
If there is anything else that you have in mind for your rebuild don't hesitate to contact us to discuss it. We may not be willing to use an in-line 4 cylinder engine,  build a 12 foot long chopper or use a touring pack designed for a  Goldwing, but if you have something specific in mind, lets talk.
Matt